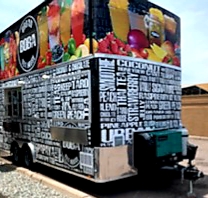 Special Limited Time Offer
For a Limited Time, This Trailer Will Be Available for Purchase With or Without Business Contacts & Desirable Placements in High Foot Traffic Locations.
Like All of Our Concession Trailers, This Trailer is Guaranteed to Pass Initial Health Inspections in Any City or State.
For More Information Call 602-418-0699

Don't Forget to Ask About No Money Down & No Payments for 90 Days.

At Food Truck Builders of Phoenix, all of our food trucks, trailers and concession stands are GUARANTEED to pass all CALIFORNIA health inspections.
We'll also ship worldwide and beat any competitors written estimate by 10%. Bring in their start to finish written estimate, and we'll do it cheaper-Its that easy.
Take the First Step Today by Calling 602-418-0699