Concession Trailers for Sale in Phoenix AZ, GUARANTEED to Pass ALL Local Inspections!
Most people know that we sell food trucks and food trailers, but a lot of people still don't know that we build concession trailers for ANY business.
Coffee Trailers for Sale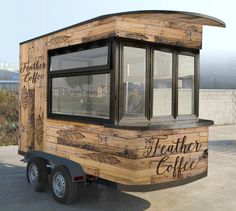 "According to an article by the Harvard School of Public Health, 54% of adults drink coffee every single day!"
Who can't use a little boost when their out with family and friends trying to have a good time?
You can be there for them in their time of need.
Our Coffee Trailers come stocked with everything you need to quickly and profitably serve hot AND cold coffee, teas and other beverages.
We can build them with one serving window or two. We can build them in any size. Our coffee trailers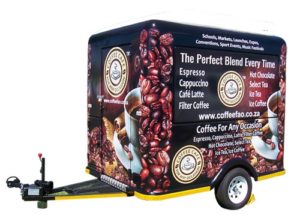 are made to order. And best of all, this doesn't cost you a penny more than it would to buy one that was built for someone else.
You can have a fully-customized coffee trailer for the same price as the one-size-fits-all trailer that you'd buy down the street.
We'll meet with anybody to discuss goals, for FREE! Message us through that tab (bottom 
right,) on Facebook, or you can always call or text us at 602-418-0699.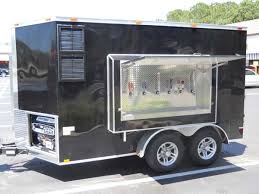 Beer Trailer and Beer Tap Trailers for Sale
"When properly poured, draft beer can be one of the most profitable drinks in a bar with profit margins of 85 to 90 percent possible."
-https://yourbusiness.azcentral.com/ideal-profit-margin-bar-drinks-25544.html
At Food Truck Builders of Phoenix, we buy, sell, trade, repair and build beer trailers in Phoenix Arizona.
It doesn't matter if you want 5 taps, 10 taps or even 100.  Just tell us what you've been dreaming of, and we'll make it real.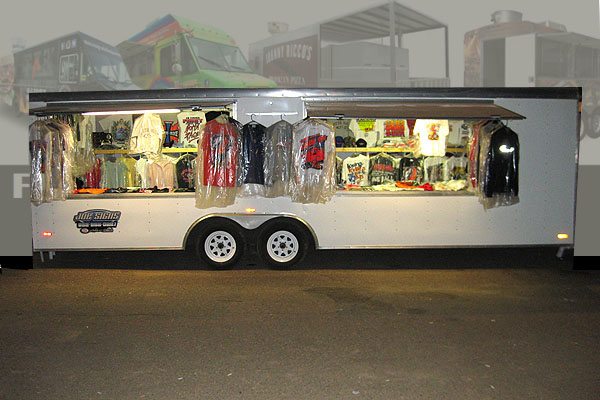 T-Shirt Concession Trailers For Sale
It doesn't matter if you want to create your own merch or sell licensed products to sports fans and music lovers. Whatever your goals are, we can help. We can provide you with the shelving, racks and the vibrant LED lighting that will make your clothing pop.
We're here for you from start to finish. If you have a trailer, we can convert it, if you don't have a trailer, we have them here. We've got designers and engineers available to provide you with mock-up and drawing. We've got fabricators here to bring those drawings to life.
We do everything we can to make the process easy.
To Schedule a FREE Initial Consultation, Call 602-418-0699
*If you didn't see what you were looking for on this page, you should still call us. We really can build anything.
18′ Turn-Key Food Trailer For Sale in Phoenix AZ
Ready for immediate use, or customize for your specific needs. Ready to go with power, gas, lighting, sinks with grey and fresh water holding tanks, refrigeration and cooking equipment.
Everything NSF approved and GUARANTEED to pass Health Inspections
602-418-0699 
Concession Trailer For Sale
Dual axle concession trailer with lots of refrigeration and burners for cooking. Plenty of counter space and shelving. Screen door and AC, turn-key and ready to go.
Hot Dog Trailer for Sale, Guaranteed to Pass Inspection
Made right here in Phoenix Arizona. Heavy-Duty Steel Construction. NSF Approved Restaurant Equipment sitting on a shiny new trailer. Fully Self-Contained, & Guaranteed to pass inspection in every city and state. We have several of these ready to go to today, and/or fully customizable.
Financing Available, Call (602) 471-9749
Concession Trailer For Sale
This dual-axle trailer is fully-loaded. It features a patio with fold-down ramp, screen door, and hand sink. It's perfect for Smoking or BBQ. Inside it has a refrigerator, freezer, range/oven combo and plenty of warmers and stainless steel cabinets. Two serving windows, dual gas or propane storage tanks and mounted spare-tire. Also feature speed racks, exhaust, AC and fire suppression.
Everything We Sell is Guaranteed to Pass Inspection, Call (602) 418-0699